A rare event occurred in February 2016 on the island of Fiji - multiple natural disasters struck simultaneously,
including Category 5 Cyclone Celia, which exceeded a top wind speed of 195 MPH, creating a 55-foot storm surge that doubled when an 8.3 magnitude earthquake struck off the coast of Fiji, instantly doubling the size of the storm surge into a massive tsunami.
Cyclone Celia did something rare - making landfall in Fiji as a 190 MPH Category 5 cyclone, bringing with it a large swell of water exceeding 100 FT in height, equivalent to a large tsunami, thus resulting in massive and total devastation of the islands.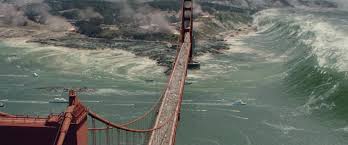 Cyclone Celia - Meteorological History
On February 12, a tropical wave developed over Port Villa, Vanuata. This system continued to track southwest, attaining annular characteristics and gale-force winds. On February 15, the wave underwent an explosive intensification, topping out at 110 MPH - equivalent to a Category 2 hurricane, along with a rapidly dropping pressure that eventually stabilized at 962 mbar. The system eventually continued to intensify, ultimately reaching C5 status only a day later, with winds reaching 185 MPH in Celia's core. Within an hour, Celia jumped to an incredible 200 MPH just an 8.7 magnitude earthquake struck off the coast of Fiji at 05:56 UTC on February 18, the strongest earthquake to occur since the 9.0 Japan Earthquake of 2011. The earthquake stirred up 45-foot swells of water, which began to spread in all directions. Cyclone Celia later passed over the afflicted area, with an intense low pressure of 882 mbar, coupled with 200 MPH winds, further expanded the size of the ever-increasing waves.
Cyclone Celia further shifted the course of several large waves at the precise moment the National Tsunami Center issued a Megatsunami Warning for the island of Fiji, which had felt some aftershocks of some of the earthquake, with the highest reaching 4.1 on the Richter Scale, causing minor damage across several islands. As the storm further showed signs of making a direct hit on the Fijan Islands, Fiji's government declared a state of emergency as Celia was less than 24 hours from landfall, supposedly bringing a megatsunami caused by a poweful off-shore earthquake. With a combination of these events, it is the worst natural disaster in human history. Three hours later, Cyclone Celia hit Fiji with the force of one of the strongest storms to occur in the South Pacific, causing major damage with 195 MPH winds. Severe wind damage was reported, with gusts over 215 MPH obliterated small buildings and destroyed reinforced ones. Entire homes were lifted from their foundations due to the intensity. Ironically, the storm surge did not hit ahead of Celia's landfall.
Community content is available under
CC-BY-SA
unless otherwise noted.